I apologise for the long lapse in posting…vacation, a wedding and a family visit took precedence.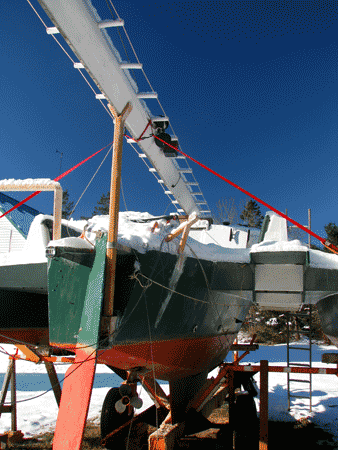 And then there was all the time spent fixing things. It turned out the trailer bearings were shot because I had not cleaned and re-greased them. Finding bearings and grease seal for what was a Dodge Caravan axle took most of an afternoon and then my friend Graham in Brooklyn (PEI) had to use his special tricks to get the outer race out of the hub.
And the outboard motor wouldn't draw cooling water. With the "muffs" supplying water nothing came out of the telltale, even when revved up. After using up a day on that, I brought it to Graham and he replaced the impeller…a tiny bit of rubber that resides down near the bottom of the shaft and it terribly inaccessible. It was good to have my nephew, Nate, visiting to help with the lifting.
And he helped with the launching. I managed to find a no-traffic time on the road to the harbor, and all went well. We got the mast raised with difficulty…the wind was rising…and tied it up for the night, expecting to tighten turnbuckles and making adjustments on the new stays to the stern.
Unfortunately overnight the turnbuckles worked loose and the mast dropped forward onto the shore…the boat was in a corner. The mast did not snap but the radar reflector was shaken up and the anchor light was lost. I was able to unbolt the mast and, with help, get it on the shore. Yesterday I trailered it home for repair. Since the spindles for climbing are failing…I turned pin cherry and poplar brush for the dowels and they do not hold up despite bing dry and coated in epoxy. Now I will replace them with commercial oak dowels. And replace the antenna coax cable and make the top modular so it can be brought in in the winter…and not be a temptation to nesting birds in the spring.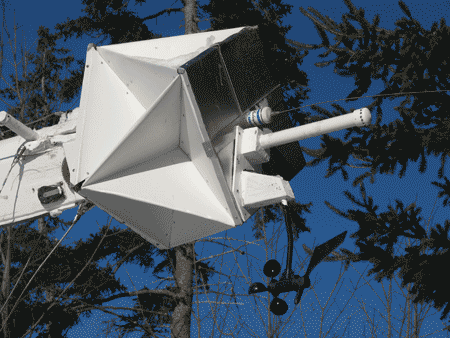 Needless to say, this all takes time and is delaying my sail around PEI, but I still aim to complete it by Fall.