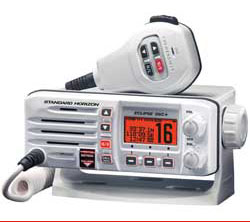 [I apologise for the long delay in posting…a month-long vacation and an incredible load of projects got in the way, but now it is time to seriously prepare the boat for launch]
I finally got my new Standard Horizon VHF radio installed and I am impressed. I gave up having the loud hailer feature, but the features relative to DSC (Digital Selective Calling…the emergency feature that broadcasts your distress and location with the push of a single button…are significantly increased. Now I can wire it up to the GPS and know the coordinates have gotten through to the radio…they are shown right on the display. Also, although I have not tried it, it is possible to do a DSC test to another DSC-equipped radio without having to call for a true emergency broadcast.
When I think back to the radio and depth sounder that came with the boat almost 10 years ago (which both dated back far before that), I think buying new is a far better idea with most electronics. Yes, in an emergency a lead line could give depth and a sextant could give position, but I hope to never be out of sight of land in my sailing.